Digital Citizenship In A Pandemic
Political Information And Action In 2020
Mon, 19 October, 2020
2:00pm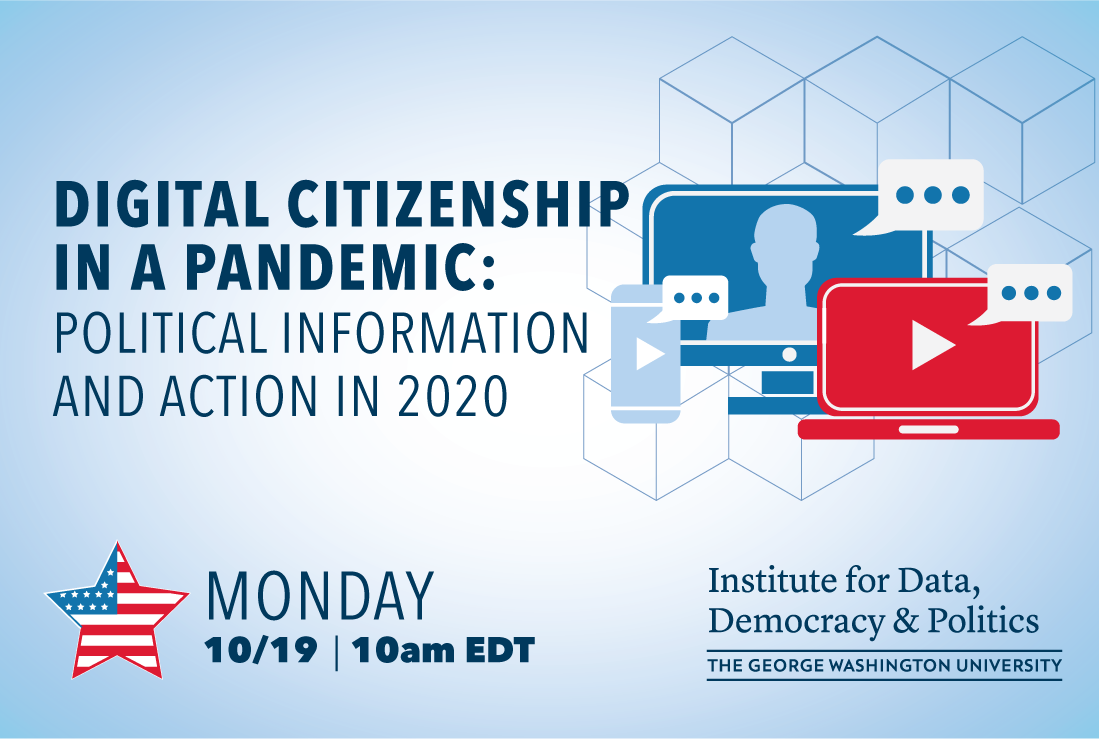 From advertising to organizing, a great deal of political information has been shared and action taken place online for decades. And yet the coronavirus introduced a sea change in American digital political life. Rather than being just one of many ways to campaign, communicate, and mobilize, the pandemic has made digital politics a truly dominant force. Though offline activities continue, we are now all truly digital citizens now.
This virtual conference took a closer look at these new dynamics, explored questions about fact checking the presidential campaign, considered how communities of color are impacted by digital disinformation, and talked about potential post election violence and examine how discourse about COVID-19 is reshaping American politics.
If you were unable to attend the whole conference you can watch a recording of the different panels on our YouTube channel here. We were also featured on C-SPAN 2 and C-SPAN radio. You can view the different panel's on C-SPAN's website as well.
Conference panels:
   
Fact Checking & Reporting the Online Campaign
-Susan Page, Washington Bureau Chief, USA Today
-Mara Liasson, National Political Correspondet, NPR
-Angie Drobnic Holan, Editor-in-Chief, PolitiFact
-Ethan Porter, Researcher, IDDP; Assistant Professor, GW School of Media & Public Affairs
-Moderated by Frank Sesno, Principal Investigator, IDDP

Disinformation's Impacts in Communities of Color
-Leana Wen, Visiting Professor, GW Milken School of Public Health; Distinguished Fellow, Fitzhugh Mullan Institute of Health Workforce Equity
-Seyi Akiwowo, Founder and Executive director, Glitch; Knight Fellow, GW IDDP
-Amanda Castel, Professor, GW School of Public Health
-Moderated by Rebekah Tromble, Director, IDDP

Investigating Potential Post-Election Violence
-Lisa Hagen, Reporter, WABE; Co-Host, No Compromise podcast; NPR
-Jon Lewis, Research Fellow, GW Program on Extremism
-Sam Jackson, Assistant Professor, University at Albany
-Moderated by Rebekah Tromble, Director, IDDP

COVID, Political Mobilization & Digital Platforms
-Ifeoma Ozoma, Founder and Principal, Earthseed; Formerly Public Policy & Social Impact Manager, Pinterest
-David Broniatowski, Associate Director, IDDP
-Nicolas Velasquez Hernandez, Post-Doctoral Research Scientist, IDDP
-Moderated by Lorien Abroms, Professor, GW Milken Institute School of Public Health; Associate Dean for PhD & MS Studies, GW Milken Institute School of Public Health; researcher, IDDP
Additionally, we would like to share some resources that were referenced in or are directly relevant to our conversations during the conference.