Institute for Data, Democracy and Politics Hosts Panel on Digital Discourse
Researchers and experts discussed how misinformation spreads and who benefits by it in final Colonials Weekend event.
Sun, 22 September, 2019
4:00pm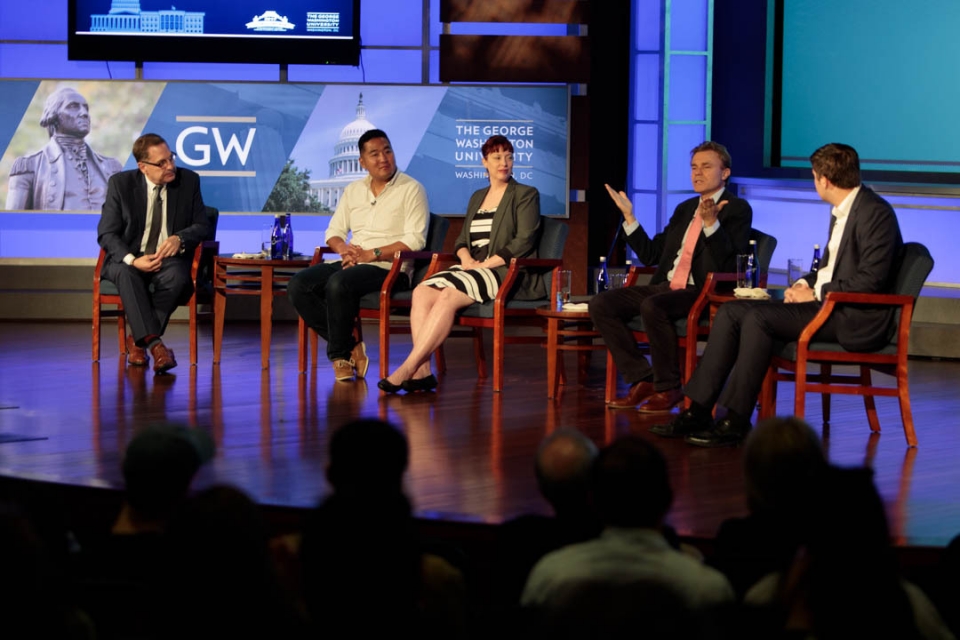 By Ruth Steinhardt
Technology experts hosted by the George Washington University's Institute for Data, Democracy and Politics (IDDP) said at a panel Sunday that digital behavior has transformative real-world effects requiring careful interdisciplinary study.
 "You build something virtual and something real crumbles: a democracy, a media, interactions between family members, all sorts of things," said panelist Adam Conner, B.A. '06, vice president of technology policy at the Center for American Progress. "That's something that the sciences alone can't solve and the social sciences alone can't solve, and it's important that we have both of those tools available to us."
The panel, "Political Discourse," investigated where online disinformation comes from and how it impacts digital media and enters the national dialogue. It was one of the first events hosted by the IDDP, which was founded this summer by a grant from the John S. and James L. Knight Foundation.
Introducing the panel, President Thomas J. LeBlanc said the IDDP's existence—and its team of researchers, who hail from political communication, journalism, physics, international affairs, computer science and engineering—exemplify GW's commitment to integrating STEM across every field.
"By integrating our expertise across disciplines, we add value to our traditional strengths," Dr. LeBlanc said. "Our ability to prepare students to succeed in an increasingly complex world hinges on our ability to convene interdisciplinary teams and use data and research to solve our nation's, and our world's, biggest challenges."
IDDP Director Steven Livingston, who moderated the panel, said the ready availability of data from personal tech devices and social media is a window to vast fields of study.